The worknews.io Embedded app on Webex has been made so meeting owners can display a news feed to participants based on any topic they choose.
Adding worknews.io to your Webex Apps:
1. Add the worknews.io for WebEx from the App Store here: https://apphub.webex.com
2. As a meeting owner, click on Apps and worknews.io will appear once you have added it via Webex App hub. (if not, ask your admin to allow).
Display news to your meeting participants
1. Once you have started a meeting, you will see "Apps" in bottom tray of the webex meetings application.
2. Select and open worknews.io and create a free or sign in.
3. Type in a search or click on a saved search if you have signed in.
4. Once you have searched for a topic, "Open Together" will appear. ONLY click on it once you are satisfied with the news appearing and you can try different searches to do this.
NB: "Open Together" will only appear after you have types in a news search or clicked on a saved filter from left menu.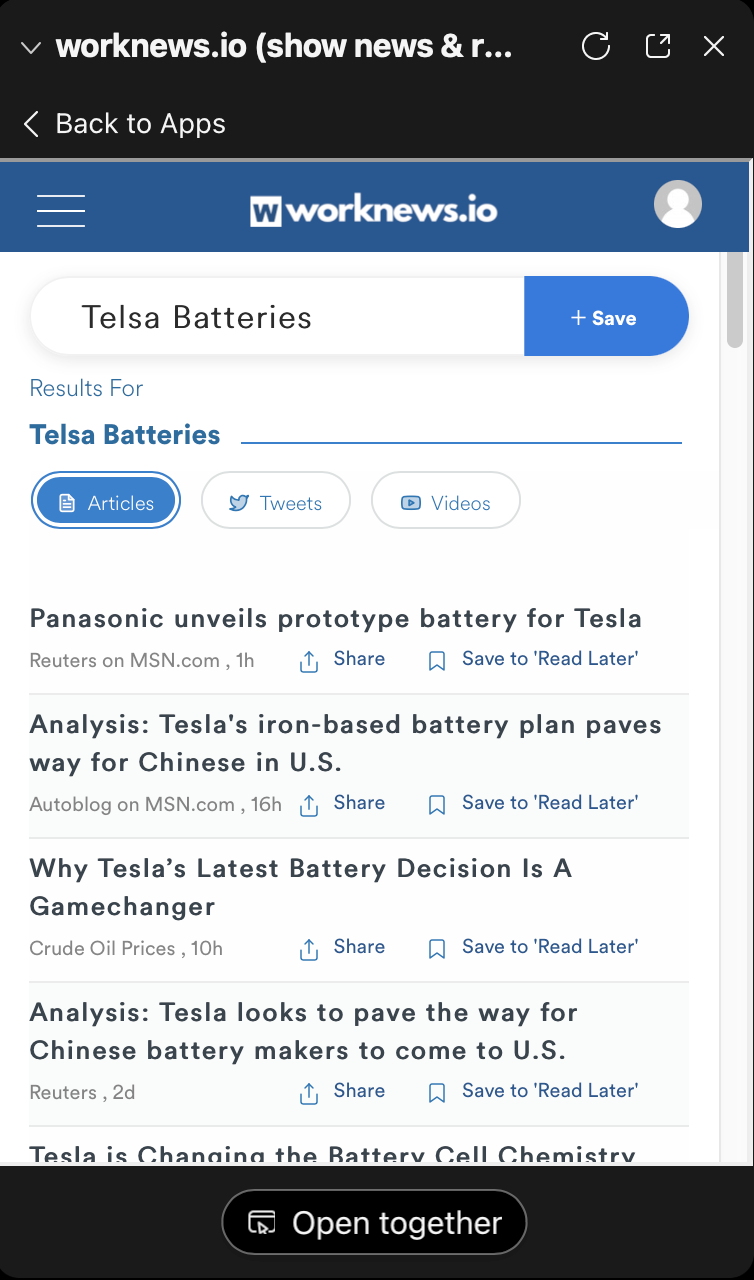 5. Once you click on "Open Together" the news feed you see will appear on participants embedded app panel. At this point, they take over their own newsfeed and can click on articles, tweets and videos and type news searches and they are the only ones that can see results.
6. As the owner, when you click on Open Together, participants will see that same feed but then you can use worknews.io without anyone else seeing after you have shared. i.e it is not mirroring.
7. If you wish to share another newsfeed, click on "Stop Session", type in another search term and when satisfied with results, click on "Open Together" again to share the news newsfeed.
8. if you would like to refine your results and search terms, you can go to worknews.io and login or create an account and save and refine filters before a meeting. When you sign into worknews.io via Webex Meeting, you will see your saved searches in your left menu.